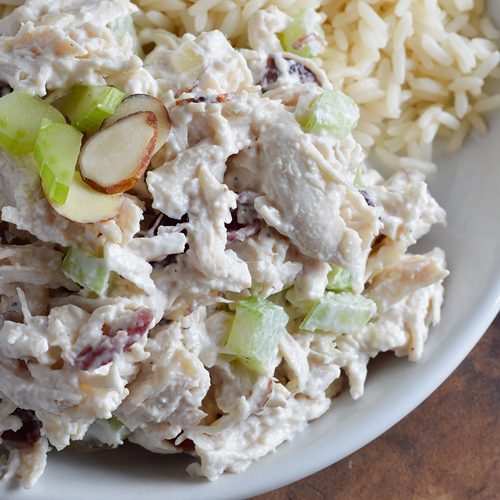 A savory chicken salad with celery and toasted almonds
| Preparation | Cooking | Ready in | Yield |
| --- | --- | --- | --- |
| 45 minutes | 45 minutes | One hour and 30 minutes | 4 servings |
Ingredients
| Name | Quantity |
| --- | --- |
| Olive oil | 2 tbsp |
| Mayonnaise | 0.5 cu |
| Sliced almonds | 0.33 cu |
| Chicken thighs | 20 oz |
| Green onions | 0.5 cu |
| Celery | 0.5 cu |
| Shallot | 0.25 cu |
| Garlic | 3 clvs |
| Oregano | 0.5 tbsp |
| Dried basil | 0.5 tbsp |
| Thyme | 0.25 tbsp |
| Lowry's seasoned salt | 0.5 tbsp |
| Kosher salt | 1 tsp |
| Black pepper | 1 tsp |
Directions
Sear chicken in olive oil and season with salt, pepper, and Italian herbs.
Chop shallots, celery, and green onions.
Add garlic to chicken and finish searing.
Toast sliced almonds over medium heat for 5 minutes.
Combine diced shallots, green onions, and celery in a large bowl.
Chop chicken and combine with vegetables.
Stir in mayo until desired consistency and season with Lowry's salt.
Serve on sandwiches or lettuce wraps.
Enjoy!
Subscribe to my mailing list
Get my latest recipes and ideas delivered right to your inbox