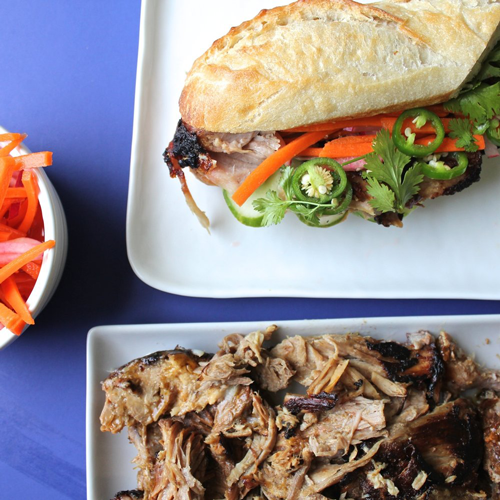 Slow-cooked pork served with BBQ sauce and coleslaw
| Preparation | Cooking | Ready in | Yield |
| --- | --- | --- | --- |
| 30 minutes | Six hours | Six hours and 30 minutes | Four servings |
Ingredients
| Name | Quantity |
| --- | --- |
| Brioche buns | 0.5 doz |
| Chicken broth | 1 cu |
| BBQ sauce | 4 tbsp |
| Vegetable oil | 2 tbsp |
| Pork shoulder, boneless | 1.5 lb |
| Onion | 8 oz |
| Garlic | 5 clvs |
| Cayenne pepper | 1 tsp |
| Onion powder | 1 tsp |
| Kosher salt | 1 tbsp |
| Black pepper | 1 tsp |
| Cumin | 0.5 tsp |
| Oregano | 1 tbsp |
| Cinnamon | 0.25 tsp |
| Chili powder | 0.5 tbsp |
Directions
Heat oil in pan.
Chop onions and garlic.
Trim pork, combine spices, and coat evenly.
Brown pork on high until a nice crust forms on all sides.
Place onions, garlic, pork, and chicken broth in slow cooker.
Cook for six to eight hours.
Shred pork and serve on toasted brioche buns with coleslaw and BBQ sauce.
Enjoy!
Subscribe to my mailing list
Get my latest recipes and ideas delivered right to your inbox