Shrimp or Chicken Burritos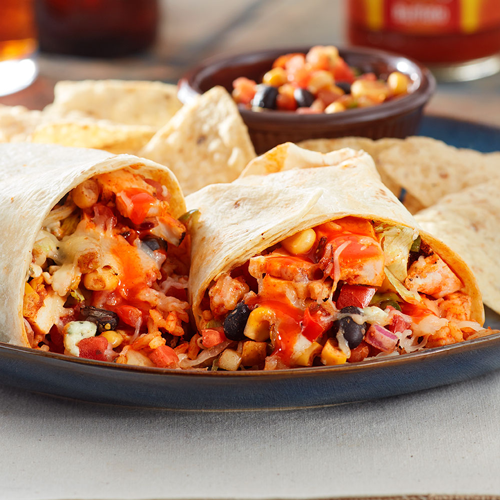 Mexicali burrito with all the fixins
| Preparation | Cooking | Ready in | Yield |
| --- | --- | --- | --- |
| 15 minutes | One hour | One hour and 15 minutes | 12 cookies |
Ingredients
| Name | Quantity |
| --- | --- |
| Chicken broth | 2 cu |
| Tomato sauce | 0.5 cu |
| Vegetable oil | 3 tbsp |
| Olive oil | 1 tbsp |
| Green salsa | 2 oz |
| Pepper jack cheese | 0.5 cu |
| Rice, long-grain | 1 cu |
| Chicken thighs | 8 oz |
| Shrimp | 0.5 lb |
| Onion | 3 oz |
| Tomato | 6 oz |
| Lime juice | 1 tbsp |
| Garlic | 3 clvs |
| Avocado | 6 oz |
| Serrano pepper | 2 oz |
| Kosher salt | 1 tsp |
| Garlic powder | 0.5 tsp |
| Cumin | 0.5 tsp |
| Black pepper | 1 tsp |
| Paprika | 2 tsp |
| Cayenne pepper | 1 tsp |
| Red pepper flakes | 1 tsp |
| Cilantro, fresh | 1 oz |
Directions
Prep pico de gallo ingredients in a small bowl.
Heat vegetable oil in medium pot.
Add half chopped onions, saute few minutes until soft.
Add dry uncooked rice to pan and saute until golden.
Add salt, garlic powder, cumin, and black pepper to rice.
Add tomato sauce and chicken broth.
Bring to simmer and cook for 20-30 minutes until rice is cooked through and no liquid remains.
Saute shrimp or chicken in separate pan over medium heat.
Season with paprika, cayenne pepper, red chili flakes, and salt & pepper.
Top with lime juice and set aside.
Warm tortillas in pan.
Grate pepper jack cheese and slice avocado.
Assemble burrito with cheese, rice, pico de gallo, avocado, and shrimp or chicken.
Serve with lime juice and hot sauce.
Enjoy!
Subscribe to my mailing list
Get my latest recipes and ideas delivered right to your inbox