Steak Au Poivre and Potatoes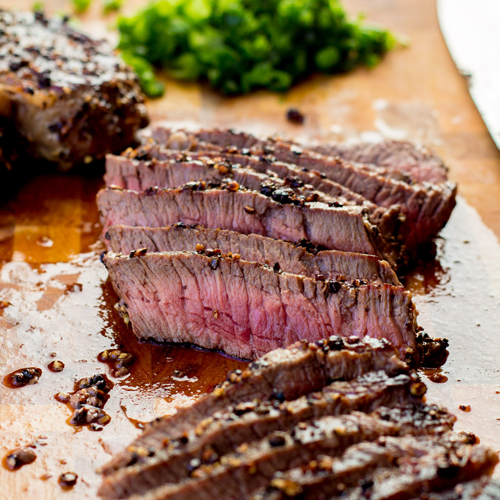 Filet mignon and peppercorn cream sauce
| Preparation | Cooking | Ready in | Yield |
| --- | --- | --- | --- |
| 20 minutes | Two hours | Two hours and 20 minutes | 2 servings |
Ingredients
| Name | Quantity |
| --- | --- |
| Olive oil | 1 tbsp |
| Butter | 4 tbsp |
| Cream | 1 cu |
| Filet mignon | 16 oz |
| Potatoes | 2 cu |
| Kosher salt | 1 tbsp |
| Black pepper | 2 tbsp |
| Green peppercorns | 1 tbsp |
| Tarragon | 1 tbsp |
| Cognac | 0.5 cu |
Directions
Remove the steaks from the refrigerator for at least 30 minutes and up to 1 hour prior to cooking.
Coat sides in salt, pepper, and coarse-ground green peppercorns.
In a medium skillet over medium heat, melt 1 tbsp of butter and olive oil.
As soon as the butter and oil begin to turn golden and smoke, gently place the steaks in the pan.
For medium-rare, cook for three minutes on each side.
Once done, remove the steaks to a plate, tent with foil and set aside to rest.
Add 1/3 cup cognac to de-glaze the pan.
Add the cream and simmer on low heat.
Bring the mixture to a boil and whisk until the sauce coats the back of a spoon, approximately 5 to 6 minutes.
Add a teaspoon of cognac, some whole green peppercorns, and season with salt and pepper to taste.
For the potatoes- peel and dice to one-inch cubes.
Toss with olive oil, salt, pepper, and tarragon.
Roast in oven at 425F for 15-20 minutes.
To finish- pan fry in butter for 10 minutes.
Serve rested steaks with cream sauce and double-cooked potatoes.
Fight to the death over the remaining sauce.
Enjoy!
Subscribe to my mailing list
Get my latest recipes and ideas delivered right to your inbox