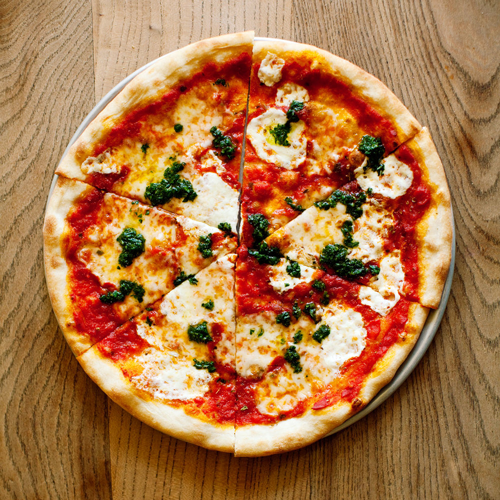 Thin-crust Italian style pizza with à la carte toppings
| Preparation | Cooking | Ready in | Yield |
| --- | --- | --- | --- |
| 45 minutes | Two hours | Two hours and 45 minutes | Four servings |
Ingredients
| Name | Quantity |
| --- | --- |
| Flour | 4.25 cu |
| Yeast | 1 tbsp |
| Olive oil | 8 tbsp |
| Tomatoes, San Marzano | 16 oz |
| Mozzarella | 1 lb |
| Kosher salt | 1 tbsp |
| Basil, fresh | 1 oz |
| Oregano, fresh | 2 tbsp |
| Black pepper | 1 tsp |
Directions
In the bowl of a mixer with the hook attachment (or in a small bowl with a spoon), combine the warm water, yeast, and oil.
With the mixer on low, stir the mixture to dissolve the yeast.
Add the flour and salt, and continue to stir on low just until the ingredients are combined, then increase the mixer speed to medium and knead the dough until it's smooth and elastic, 5 to 6 minutes.
Gather the dough into a ball and transfer it to a clean bowl that's large enough to hold the dough after it doubles in volume.
Dust the surface of the dough with flour, cover tightly with plastic wrap, and let the dough rise at room temperature until it doubles in volume.
While the dough is rising, drain the sliced mozzarella on several paper towels to remove any excess moisture.
Position an oven rack in the bottom third of the oven, placing a pizza stone on the rack if available.
If a pizza stone is unavailable, brush a pizza pan lightly with olive oil. Preheat the oven to 450°F.
Transfer the dough to a floured work surface.
Gently press it into a rough square then pull the four corners in toward the center and flip the dough over so the upper surface is smooth.
Drape the ball of dough with the plastic you used during the first rise, and let it rest until it's relaxed, about 30 minutes.
Uncover the dough then spread and stretch it into a circle about the same dimensions as your stone or prepared pan.
Carefully lift and transfer the dough to a pizza peel (if using a stone) or the pan and stretch it out into an even layer.
Spread the crushed tomatoes over the pizza in an even layer and top with the mozzarella slices.
If using a pizza stone, use the peel to slide the pizza onto the oven rack positioned in the lower third of the oven; if using a pizza pan, simply place the pan directly on the rack.
Bake the pizza until the edges are golden and the cheese is bubbling, 8 to 10 minutes.
Sprinkle with the torn basil and oregano, and season with salt and pepper if desired.
Enjoy!
Subscribe to my mailing list
Get my latest recipes and ideas delivered right to your inbox