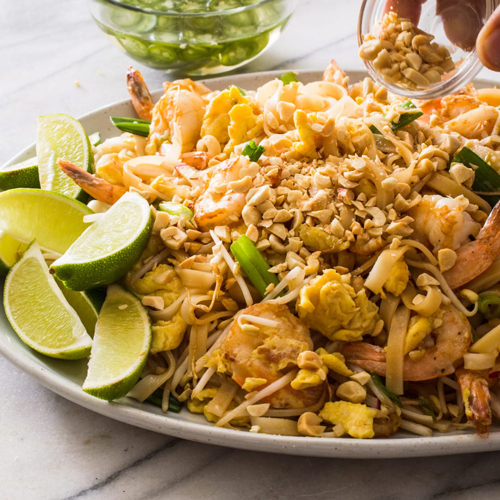 Stir-fried rice noodles with shrimp and fresh vegetables
| Preparation | Cooking | Ready in | Yield |
| --- | --- | --- | --- |
| 30 minutes | 30 minutes | One hour | Two servings |
Ingredients
| Name | Quantity |
| --- | --- |
| Vegetable oil | 1 tbsp |
| Fish sauce | 3 tbsp |
| Soy sauce | 1 tbsp |
| Peanut butter | 1 tbsp |
| Eggs | 2 units |
| Rice noodles | 8 oz |
| Peanuts, crushed | 0.25 cu |
| Shrimp | 0.75 lb |
| Lime juice | 2 tbsp |
| Garlic | 4 clvs |
| Green onion | 1 cu |
| Lime | 0.5 units |
| Ginger, fresh | 1 tbsp |
| Brown sugar | 3 tbsp |
| Red pepper flakes | 1 tsp |
| Cilantro, fresh | 0.5 cu |
Directions
Boil water and add noodles, stirring occasionally.
Cook to al dente, drain and rinse with cold water.
Beat eggs in small bowl with a pinch of salt and set aside.
In another bowl, mix fish sauce, soy sauce, lime juice, peanut butter, sugar, and red pepper flakes.
Heat oil in pan.
Add ginger, garlic, shrimp, salt, and diced white portions of green onions.
Scrape shrimp mix to side of pan, add beaten eggs, and fry for one minute.
Add four tablespoons oil to pan, add noodles and fish sauce mixture.
Toss together with green onions cut in 1-2 inch pieces.
Serve topped with cilantro, crushed peanuts, and lime wedges.
Enjoy!
Subscribe to my mailing list
Get my latest recipes and ideas delivered right to your inbox