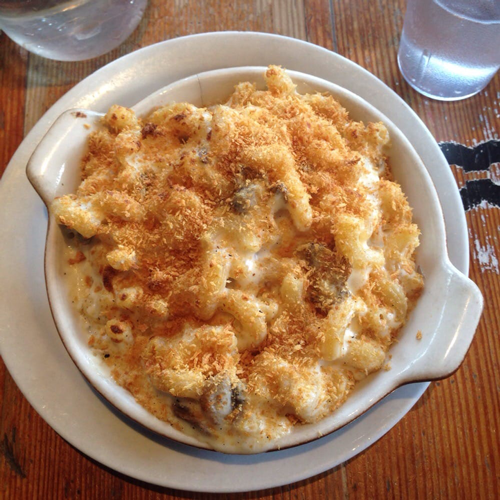 Homeroom's famous garlic mac & cheese
| Preparation | Cooking | Ready in | Yield |
| --- | --- | --- | --- |
| 15 minutes | 30 minutes | 45 minutes | Four servings |
Ingredients
| Name | Quantity |
| --- | --- |
| Milk | 3 cu |
| Butter | 8 tbsp |
| Gouda cheese | 1 cu |
| Pecorino Romano cheese | 0.5 cu |
| Flour | 6 tbsp |
| Pasta | 8 oz |
| Garlic | 5 clvs |
| Kosher salt | 1 tsp |
Directions
Heat half a stick of butter (4 tbsp) on medium heat until melted.
Add flour and whisk until lightly brown.
Pour in milk, one cup at a time, until sauce is thick and silky.
Add salt and grated cheeses, mix well, and add garlic.
Boil pasta in salted water until very al dente.
Combine pasta with sauce, stir on low heat for 2-3 minutes until to desired consistency.
Garnish with freshly ground pepper and serve.
Enjoy!
Subscribe to my mailing list
Get my latest recipes and ideas delivered right to your inbox