Taiwanese Pork Belly Buns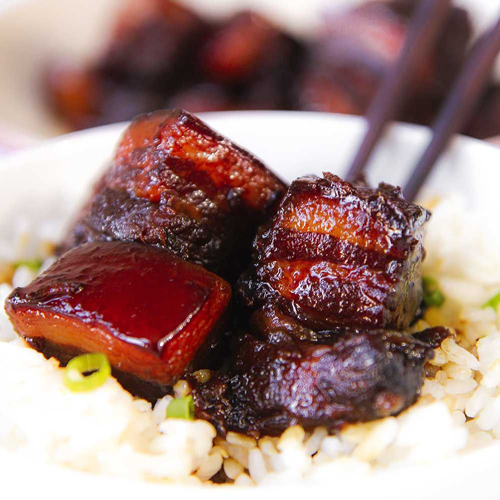 One of the most popular comfort foods in Taiwan
| Preparation | Cooking | Ready in | Yield |
| --- | --- | --- | --- |
| 15 minutes | Two hours | Two hours and 15 minutes | Two servings |
Ingredients
| Name | Quantity |
| --- | --- |
| Gua bao buns | 8 units |
| Vegetable oil | 1 tbsp |
| Soy sauce, light | 3 tbsp |
| Soy sauce, dark | 3 tbsp |
| Rice wine | 2 tbsp |
| Pork belly, lean | 1 lb |
| Ginger, fresh | 2 in |
| Garlic | 4 clvs |
| Spring onion | 2 units |
| Green onions | 0.5 cu |
| Star anise | 2 clvs |
| Brown sugar | 2 tbsp |
| Cilantro, fresh | 1 oz |
| Kosher salt | 1 tsp |
| Black pepper | 1 tsp |
Directions
Cut pork belly into 1.5 inch cubes.
Boil for 3-4 minutes and drain water.
Cook pork belly on medium high to brown for 4-5 minutes.
Add brown sugar and caramelize on low to evenly coat pork belly for a few minutes.
Add soy sauces, rice wine, and stir until sauce thickens to glaze, 4-5 minutes.
Add one cup of water.
Add aromatics including spring onion, garlic, star anise, and ginger slices,
Bring to boil on high heat.
Simmer on low for 50-60 minutes until tender.
Strain off top layer of fat and remove aromatics.
When liquid is reduced to a thick sauce, turn heat on high and begin searing pork until crispy.
Season with salt and pepper to taste.
Steam gua bao buns.
Slice green onions and cilantro.
Serve pork belly with buns, scallions, and cilantro.
Enjoy!
Subscribe to my mailing list
Get my latest recipes and ideas delivered right to your inbox