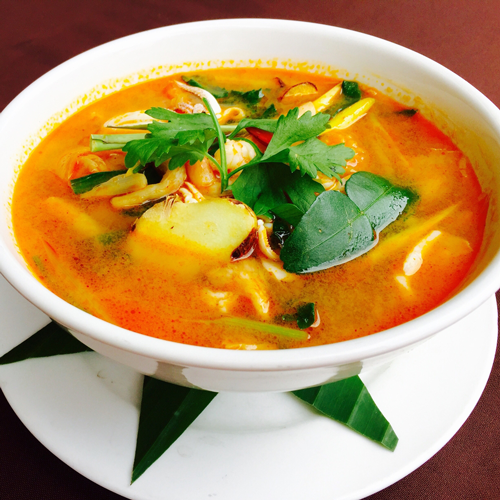 A popular Thai red curry cooked in coconut milk
| Preparation | Cooking | Ready in | Yield |
| --- | --- | --- | --- |
| 30 minutes | 45 minutes | One hour and 15 minutes | 12 cookies |
Ingredients
| Name | Quantity |
| --- | --- |
| Coconut milk | 2 cu |
| Bamboo shoots | 0.25 cu |
| Fish sauce | 1 tbsp |
| Vegetable oil | 2 tbsp |
| Rice, sticky | 2 cu |
| Chicken thighs | 16 oz |
| Onion | 8 oz |
| Serrano pepper | 0.5 oz |
| Garlic | 4 clvs |
| Ginger, fresh | 1 tbsp |
| Red curry paste | 1 tbsp |
| Cilantro, fresh | 1 tbsp |
| Mint, fresh | 1 tbsp |
| Thai basil, fresh | 1 tbsp |
| Black pepper | 1 tsp |
| Kosher salt | 1 tsp |
| White pepper | 1 tsp |
| Chicken bouillon | 1 tsp |
| Brown sugar | 2.5 tbsp |
Directions
Mince ginger, garlic, and Serrano pepper.
Dice onion, bell pepper, and chicken.
Wash the basil, mint, and cilantro.
Heat vegetable oil in saucepan.
Saute onion, bell pepper, and Serrano pepper until soft for 5-8 minutes.
Add garlic and ginger and stir 2 minutes.
Add half the red curry paste and mix.
Add chicken and brown on all sides.
Add coconut milk and heat to simmer.
Add remaining red curry paste, sugar, chicken bouillon, fish sauce, and bamboo shoots.
Simmer for few minutes on low and add fresh herbs.
Salt and pepper to taste.
To make the rice:
Wash rice until water is clear, usually three rinses.
Soak rice in cool water for 4-12 hours.
Place rice in cheesecloth and steamer basket.
Steam rice until clear, approximately 20 minutes.
Serve with Thai red curry.
Enjoy!
Subscribe to my mailing list
Get my latest recipes and ideas delivered right to your inbox